Mercedes-Benz attends the 2018 Cabbagetown Festival for its 42nd Anniversary
TORONTO, ON – September 18th, 2018 – On the weekend of September 8th and 9th, Mercedes-Benz Downtown proudly sponsored the 42nd Annual Cabbagetown Festival. Taking place along Parliament and Carlton Street in the centre of Cabbagetown in downtown Toronto, the festival featured an impressive lineup of live entertainment and delicious festival foods from the local community.
As a proud member of the downtown community, Mercedes-Benz Downtown representatives attended the festival with a table and booth to showcase some of our impressive 2018 lineup. Vehicles such as the 2018 CLA 250 4MATIC Coupe, C 300 4MATIC Sedan, GLE 400 4MATIC SUV and the hybrid GLC 350e 4MATIC SUV were on display as a glimpse of what Mercedes-Benz Downtown has to offer around the corner.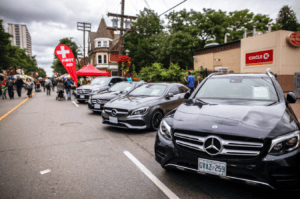 In addition, the Cabbagetown Festival was a great opportunity to promote Mercedes-Benz Toronto Retail Group's "Slow Down, Kids at Play" initiative. The initiative promotes safe driving, especially in local neighborhoods. By handing out complimentary lawn signs in communities like Cabbagetown, Mercedes-Benz hopes to make the roads a safer place.
Lastly, Mercedes-Benz held a free contest for all attendees, giving away the use of a 2018 C-Class Cabriolet for a weekend of their choice to one lucky winner. Contest winner to be announced shortly.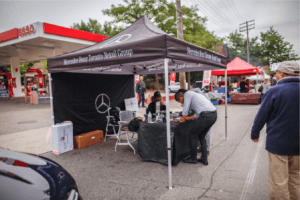 Mercedes-Benz would like to thank everybody who came out to the 42nd Anniversary of the Cabbagetown Festival and met with one of our Mercedes-Benz representatives.