The Importance of Mercedes-Benz ApprovedTires
ApprovedTires are the only tires made to match the weight and suspension of your vehicle, tested to reduce noise, improve fuel efficiency, and offer unparalleled safety & handling qualities. Our team can help you find the right type of ApprovedTires for your Mercedes-Benz ensuring you have the right tires for the season, properly installed and balanced.
---
Fall tire changeover specials are here.*
Fall Tire Special: $158
($230 when sold separately)
• Wheel-mounted tire installation
• Wheel balancing
Fall Tire Special Plus: $388
($470 when sold separately)
• Wheel-mounted tire installation
• Wheel balancing
• 4-wheel alignment
Loose Tire Special Plus: $438
($510 when sold separately)
• Mount loose tires onto rims
• Wheel and tire installation
• Wheel balancing
• 4-wheel alignment
Plus, save 20% on an alloy wheel upgrade for your tires.
Convenient online scheduling to arrange your winter tire changeover
*Offer ends November 30th, 2021. See dealer for details.
---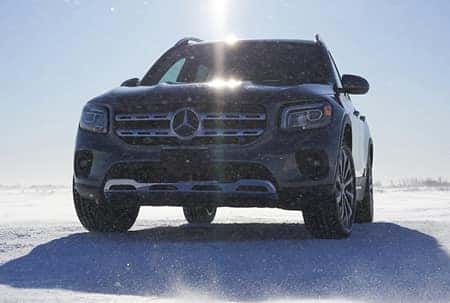 Winter Tires
Wheels and tires are your critical connection to the road. Proper wheel balancing and wheel alignment helps you get the maximum life and optimum performance from your tires.
Winter tires are designed to give tires strong grip and have a more natural rubber tread compound that helps the tire stay soft, flexible and grippy in cold and sub-zero temperatures. The tread blocks dig into snow and slush and wide grooves between tread blocks expel snow and slush and maintain proper road contact.
---
Your First Choice for Tires All Year Round
Tires are a vital part of your Mercedes-Benz performance. They're the only contact your vehicle has with the road, and affect acceleration, braking, cornering, and the overall safety of your vehicle. That's why we strongly recommend Mercedes-Benz Approved Tires. They meet our stringent specifications, and have been tested for your vehicle to ensure that you continue to experience the superb performance and handling that have been engineered into your vehicle.
---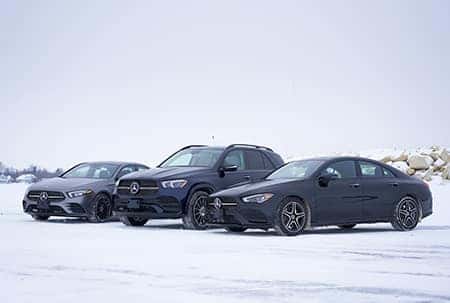 Quality
Mercedes-Benz offer the perfect wheels for every model. All wheels are optimally tailored to Mercedes-Benz vehicles and meet the same high safety standards. In addition, only the most reputed and best suppliers are selected to manufacture the light-alloy wheels worldwide, and production is subject to stringent Mercedes-Benz specifications.
---
Search our tire locator or contact us to inspect your tires or to learn more: